Who we are...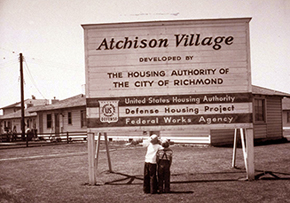 Atchison Village Mutual Homes Corporation is a mutual benefit corporation established in 1956 in Richmond, California. The corporation is cooperatively owned and managed by its members for the purpose of providing housing on a non-profit basis.

Built in 1941, Atchison Village consists of 450 housing units of five styles in 97 one-story buildings and 65 two-story buildings. It was a showcase in its time of small, solidly built units, 2-4 to a building, oriented toward community living inspired by the garden city concept of buildings arranged around courtyards with interior green spaces.

Atchison Village is a modest residential oasis situated between the semi-industrial eastern end of the Richmond/San Rafael Bridge and west Richmond, a mile north of Pt. Richmond and a 15-minute drive from Berkeley.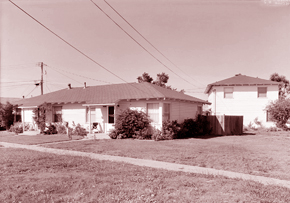 Originally built by the government to house civilian workers in Richmond's defense industries who contributed to the World War II effort. Atchison Village was Richmond's first public defense housing project and is one of the few surviving projects funded by the Lanham Community Facilities Act.

The neighborhood is part of the Rosie the Riveter/World War II Home Front National Historical Park.